A few years ago, in the fall, my wife lovingly planted a patch of crocuses in our back yard. Early in the spring, just as tender green shoots emerged from the cold ground, I drove over them. And I continued to run over them all summer, hauling truckloads of stone and soil into our yard.
But early the next spring, crocus leaves reappeared and-despite all the abuse and a bitter, record-setting winter–they bloomed beautifully, pleasing my wife and overturning my conviction for floral homicide.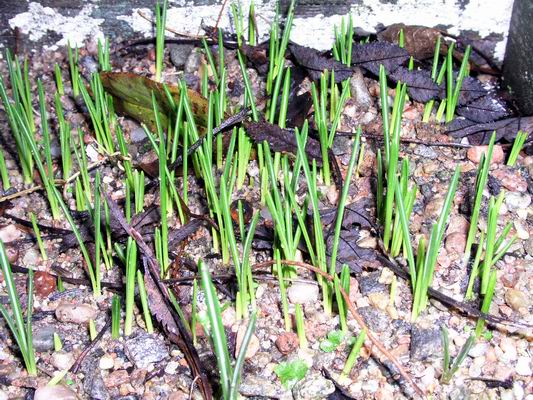 Since then, I've been a big fan of fall-planted bulbs, the kind I call "tough bulbs." Without much care, tough bulbs come back year after year, surviving cold winters and, sometimes, multiple hit-and-runs.
Note: For simplicity, we'll use the term "bulb" broadly to cover all plants grown from bulbs, corms, tubers, etc.
Regional Relativity
"Tough," of course, is a relative term. Most lycoris, for example, are tough bulbs in the southern quarter of the United States. But farther north they must be "lifted," that is, dug up and stored indoors during winter. On the northern prairie they probably won't grow at all. Other bulbs, like snowdrops, survive the coldest winters outdoors, but grow in the South only if you simulate winter by refrigerating them for about two months before planting.
To determine which bulbs are tough enough to thrive in your area without special attention, ask at your local garden center or pick up a book about bulbs that contains a directory describing specific varieties (you'll find them at home and garden centers). Catalogs are also excellent sources, not only for buying a huge variety of bulbs, but also for information about growing them.
Buying Bulbs
With bulbs, as with most things, you get what you pay for, and you're usually better off in the long run by spending a bit more. But that doesn't mean you have to buy the biggest, most expensive bulbs (often called "topsize"). Smaller bulbs from a reputable nursery or mail order supplier may produce fewer or smaller flowers for the first year or two, but will soon catch up with their costlier cousins.
The bulbs you buy should be firm, without soft spots, deep nicks or blemishes. They should be heavy, not light and dried out. Tip: Some suppliers will refund or replace bulbs that don't bloom during the first year. So save your receipts.
Planting Pointers
Fall-planted bulbs are the most fool-proof flowers around. Still, there are some guidelines you should follow:
Plant bulbs as soon as the time is right. For the flowers covered in this article, that means late fall or early winter before the soil freezes. The right time varies by climate, of course, but generally you can plant bulbs anytime after the soil cools to a steady 60 degrees F or less. If you can't plant them right away, store bulbs in a paper bag in your refrigerator or unheated basement.
The folks at the garden center can tell you how deep to plant bulbs (anywhere from 2 to 8 in.). Some bulbs should be planted deeper in colder regions. Note: You can't always rely on the planting directions listed on the bulb's packaging. The planting depths given may not be right for your climate.
Most bulbs do best in sunny spots. But this shouldn't prevent you from planting early-spring risers like narcissus or crocus under deciduous trees, since they'll develop well before tree leaves shade them.
Bulbs like loose, fast-draining soil. If your soil isn't light, mix in some peat moss (about 1 part peat to 3 or 4 parts soil). For extra heavy, clay-based soil, make the ratio about 1 to 2.
Minimal Maintenance
Bulbs need plenty of water during the growing season, including the period when roots are developing, before you see any growth. In many areas, snow melt and spring rains provide early irrigation. Later, as long as the plant is green, it needs occasional but thorough watering.
As soon as green foliage pops out of the ground each spring, sprinkle fertilizer over the surrounding soil. You'll find fertilizers made especially for bulbs at garden centers.
And that's about all it takes to grow tough, beautiful flowers that come back season after season. Actually, certain bulbs–like tulips–tend to weaken and produce fewer blooms over the years. But even planting new bulbs every five to ten years is a good deal for those of us who want low-maintenance, high-impact flower gardens.